Impressionism, a revolutionary art movement that emerged in the late 19th century, transformed the way artists approached representation. Departing from the strict realism of their predecessors, impressionist painters sought to capture the fleeting effects of light, color, and atmosphere, emphasizing the subjective experience of the observer. In this article, we will delve into the world of Impressionism, examining its distinctive features, notable artists, and iconic examples that continue to captivate art enthusiasts worldwide.
Defining Features of Impressionism
Impressionist artworks are characterized by their emphasis on capturing the transient qualities of light and color. Artists employed loose brushstrokes and a focus on the overall impression rather than precise details. They aimed to depict the ever-changing nature of landscapes, cityscapes, and daily life scenes, often painted en plein air (outdoors) to capture the immediate sensory experience.
Notable Artists
Claude Monet (1840-1926): Regarded as the quintessential Impressionist, Monet's works exemplify the movement's key principles. His series "Water Lilies" (1907-1926) showcases the interplay of light and reflections on the water's surface, emphasizing the shifting colors and atmosphere.

Pierre-Auguste Renoir (1841-1919): Known for his vibrant depictions of people and social scenes, Renoir's masterpiece "Dance at Le Moulin de la Galette" (1876) captures the joyous atmosphere of a bustling Parisian dancehall, with dappled sunlight filtering through the trees and illuminating the lively figures.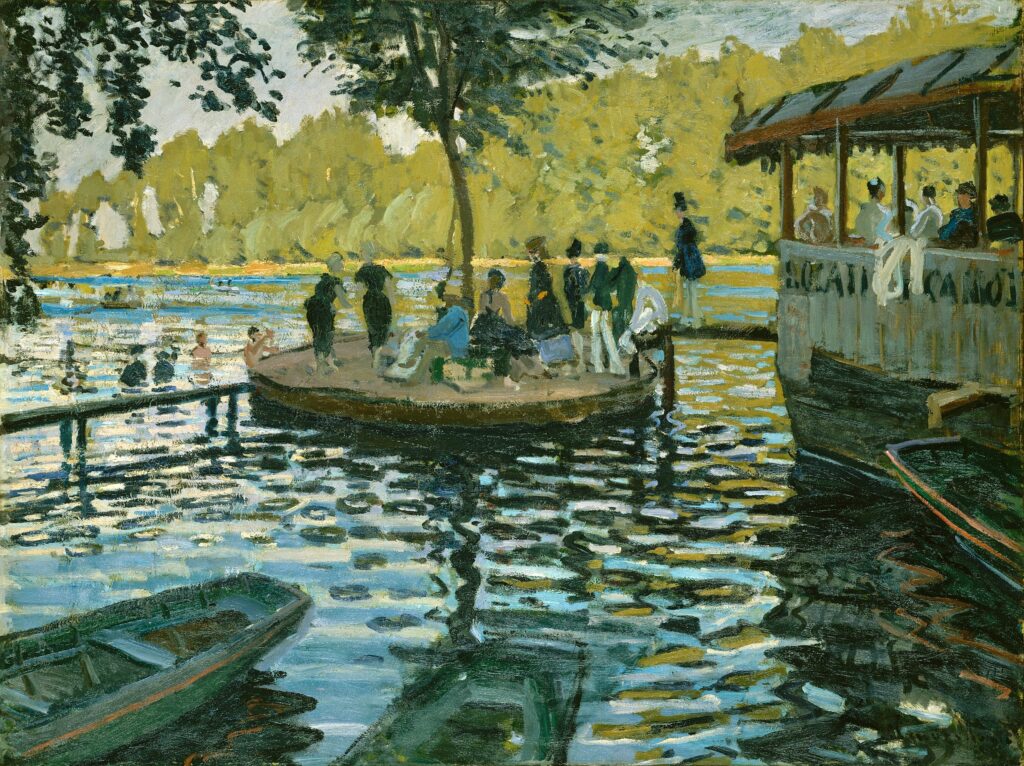 Famous Examples of Impressionism
"Impression, Sunrise" by Claude Monet (1872): This painting, from which the movement derived its name, exemplifies the essence of Impressionism. Monet's loose brushwork and emphasis on capturing the atmospheric effects of the rising sun on the water create a hazy and evocative scene.

"A Sunday on La Grande Jatte" by Georges Seurat (1884-1886): Seurat, a Neo-Impressionist artist, utilized pointillism to create this iconic work. By applying small, distinct dots of color, Seurat's painting achieves a sense of luminosity and vibrancy, capturing a leisurely scene in a park.

"The Starry Night" by Vincent van Gogh (1889): Though not considered a pure Impressionist, van Gogh's bold brushwork and expressive use of color in this iconic painting exhibit the movement's influence. The swirling night sky, luminous stars, and the dramatic landscape convey the artist's emotional experience of the scene.
Impressionism in Conclusion
Impressionism revolutionized the art world by prioritizing subjective perception and capturing the ephemeral qualities of light and color. Through their innovative techniques and keen observation, Impressionist artists like Monet, Renoir, Seurat, and van Gogh expanded the boundaries of artistic expression. Their works continue to inspire and engage viewers, inviting them to appreciate the beauty found in the fleeting moments of everyday life. Impressionism remains a beloved and influential art movement, reminding us of the power of capturing the essence of the world around us.