In the midst of the intense heat of summer, the art scene of Mallorca, is illuminated by the upcoming exhibition "High Noon". The title refers to the scorching sun and the brave who dare to visit an art exhibition under these circumstances. The cover picture of the exhibition, painted by Reinhard Stammer, already gives a first insight into the uniqueness of this open-air experience. The intention of this event is to present great art in a peaceful and natural setting.
High Noon
With "High Noon" it was possible to show the art of well-known artists from Mallorca, as well as artists whose center of life is not on the island, in a joint exhibition.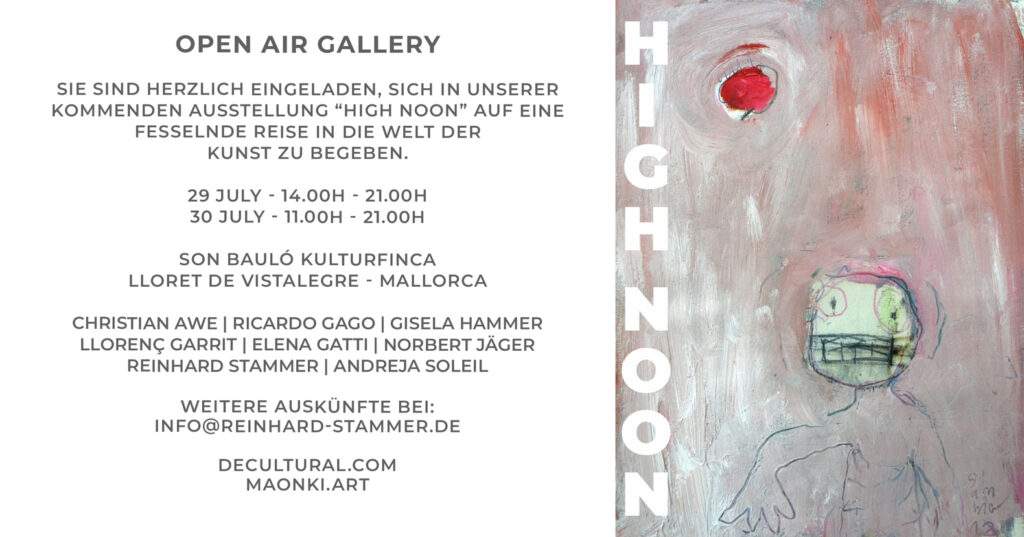 The exhibition "High Noon" represents an impressive collection of about 100 works of art. The works span a variety of media and techniques, including fascinating stone sculpture and stunning oil and acrylic paintings. The artworks reflect the diversity of messages and emotions of the participating artists. Highly renowned artists who have a long history of exhibiting have been invited.
"High Noon" is a remarkable collaborative project. The project offers visitors the opportunity to experience fascinating artists up close and discover new artistic perspectives in the open air. The exhibition will be held on 29 and 30 July 2023 at the beautiful Son Bauló Kulturfinca in Lloret de Vistalegre, Mallorca.
For more details visit maonki.art or decultural.com