Mallorca is not just known for its golden sandy beaches, striking mountains, and picturesque towns. In recent years, it has also carved out a reputation as a gastronomic paradise, hosting some of the best restaurants globally. Here, we will explore the top 10 restaurants on this beautiful island that you won't want to miss.
1. VORO
Located in the picturesque coastal town of Canyamel, VORO is a two-Michelin-star restaurant that lives up to its Latin name, meaning 'devour'. Helmed by renowned chef Alvaro Salazar, VORO offers two constantly evolving tasting menus bursting with the island's fresh, seasonal ingredients.
2. Andreu Genestra
Nestled in a tiny village on the east coast of the island, Capdepera, you'll find the Michelin-starred restaurant of Andreu Genestra. The restaurant is located within a small country house hotel surrounded by idyllic olive groves. Genestra's gourmet culinary creations are modern, locally inspired dishes using plenty of ingredients homegrown at the organic market garden.
3. Marc Fosh
Marc Fosh, located in the center of Palma within the beautiful 17th-century Hotel Convent de la Missio, serves authentic Mediterranean dishes with a modern twist. The talented chef behind the restaurant, Marc Fosh, was the first British chef to scoop a Michelin star on Spanish soil.
4. Adrian Quetglas
Also in Palma, you'll find Adrian Quetglas, an intimate bistro-style eatery in the heart of the city. The innovative chef behind the eponymous restaurant was born in Buenos Aires and grew up enjoying traditional Mallorcan cooking with his father and grandparents.
5. Bens d'Avall
Perched atop a cliff near Soller, a charming town on the northwest coast of the island, Bens d'Avall is the place to go if you're looking for a meal with a view. Father and son duo, Benet and Jaume Vincens, create beautifully plated dishes that are a celebration of Mallorcan cuisine.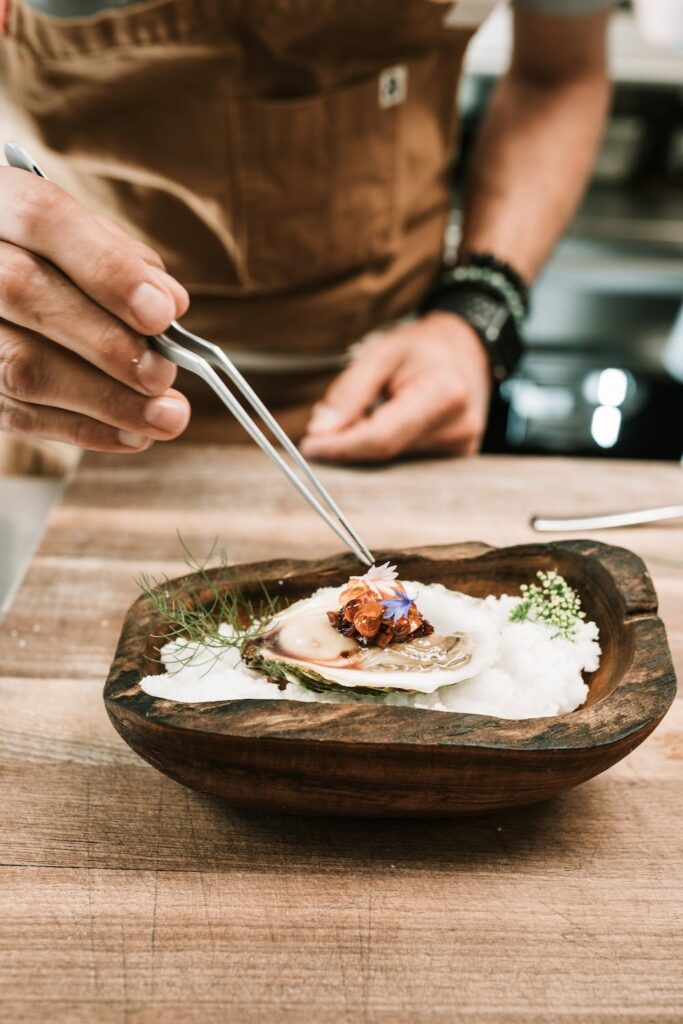 6. Arrels by Marga Coll
Located within the adults-only Meliá hotel in Illetes, Arrels by Marga Coll offers an authentic Balearic culinary experience. Marga prioritizes delicious Mallorcan recipes using local ingredients, from the cheeses of Mahón to the vegetables from Inca market.
7. Aromata
Aromata, situated in the historic Sa Nostra Cultura Centre in Palma, is another gem from Michelin star chef Andreu Genestra. The restaurant's ethos is based on minimal mileage, with a menu representative of native classics.
8. DINS Santi Taura
DINS Santi Taura, located just meters from the Cathedral in Palma, explores Mallorca's fascinating culinary past. Island chef Santi Taura interprets old recipes and reinterprets them from a contemporary point of view, earning the restaurant a Michelin star in 2020.
9. Mola
Mola, located opposite the Santa Catalina Market in Palma, offers fresh Mediterranean-Asian cuisine with hints of flavors from far-off lands such as Peru, Hawaii, and Morocco.
10. Fera
Fera, located in a beautifully restored old palace in Palma, scores high on aesthetics. But it's the inventive menu of 'Borderless Mediterranean' fusion cooking combining the local with the exotic that takes this restaurant to the next level.
Each of these restaurants offers a unique dining experience, showcasing the best of Mallorcan cuisine. Whether you're a foodie or just someone who appreciates good food, these restaurants are sure to provide a memorable culinary adventure on your visit to Mallorca.